A Selection of Educational Resources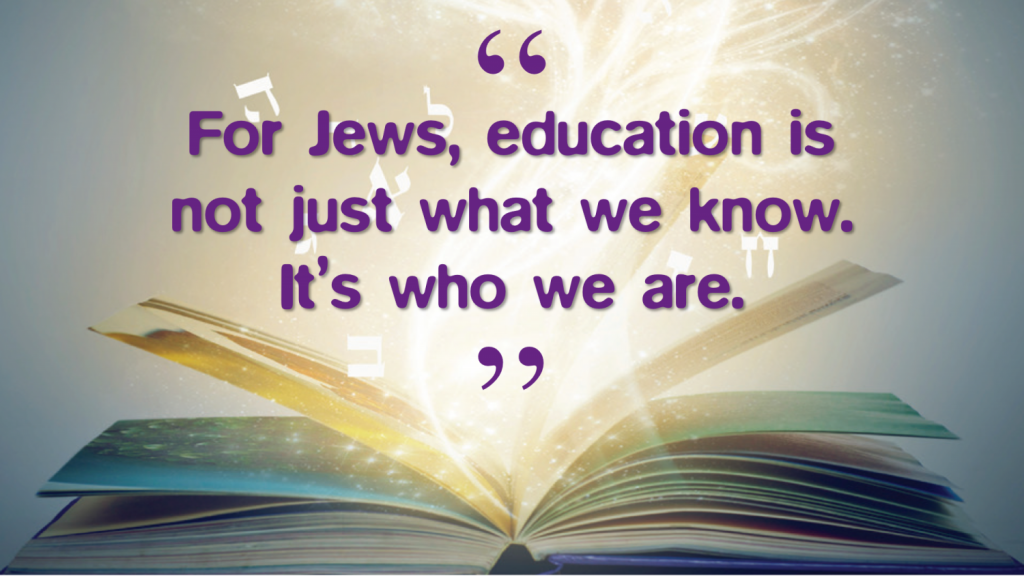 Below are short explanations and links to a range of * * FREE * *  educational content offered by The Office of Rabbi Sacks. By browsing this website you will find an ever-growing knowledge bank of original content by Rabbi Sacks including many articles, videos, quotes, shiurim, and other resources which you can find through your own searching. But if you are looking for more targeted education content, here are a few highlights to get you started! If you have a specific request or question you would like to ask us, or if you are looking for something specific, please try the key word search box.
If you cannot find what you need by using the website's search box, please email us here and we will do our best to help you out. If you want to subscribe to our free Covenant & Conversation mailing list to receive the weekly parsha essay, family edition resources, and other language options you can do so here, or use the form (here) to join our free education mailing list and be amongst the first to receive news of the projects, resources and curriculums we have developed for educators.
---

Each week, Rabbi Sacks writes a commentary essay to the weekly parsha (Torah portion). The multi-year series is called Covenant & Conversation because for Rabbi Sacks, this is the essence of what Torah learning is – throughout the ages and for us now. The text of Torah is our covenant with God; the interpretation of this text has been the subject of an ongoing conversation that began at Sinai and has never ceased. Covenant & Conversation is sponsored by The Wohl Foundation. As well as the latest essays, you can also access the Covenant & Conversation archive. In recent years, the language options have also grown, as a wonderful team of translators from 9 different countries have volunteered their time and expertises.
Click here to read and download any of the essays for free
---
Covenant & Conversation: Family Edition is an accompaniment to Rabbi Sacks' weekly Covenant & Conversation essay. These pieces were developed for the years 5779 and 5780. The Family Edition is aimed at connecting older children and teenagers with his ideas and thoughts on the parsha. Each element of the Family Edition is progressively more advanced; The Core Idea is appropriate for all ages and the final element, From The Thought of Rabbi Sacks, is the most advanced section. Each section includes Questions to Ponder, aimed at encouraging discussion between family members in a way most appropriate to them. We have also included a section called Around the Shabbat Table with a few further questions on the parsha to think about, and an Educational Companion which includes suggested talking points in response to the questions found throughout the Family Edition.
Click here to explore the archive
---
Ceremony and Celebration: Family Edition is a new and exciting initiative from The Office of Rabbi Sacks for 5781. Using the same educational format as Covenant & Conversation: Family Edition, these new resources will distill some of the key ideas from my teachings around the chaggim, making them engaging for older children, teenagers and adults alike, and encouraging further discussion around your Yom Tov table. We will be developing one new booklet for every chag (festival) in the Jewish calendar, and these always include a story, key facts and quiz for younger children, as well as a section that delves more deeply into one of the special prayers of the day.
Click here to download Ceremony & Ceremony in time for your next Jewish festival
---
In 2020 Rabbi Sacks launched a series of videos offering his perspective on some of the biggest questions posed by the Holocaust. Each topic offers exclusive video content, transcripts, discussion questions, and some additional historical and background information. This project was created in partnership with the Holocaust Educational Trust.
Click here to view the full series
---

'Ten Paths to God', a new 10-unit curriculum on Judaism and Jewish identity based on traditional sources and the teachings of Rabbi Sacks. This curriculum has been developed as a free resource that can be adapted and used by anyone involved in formal or informal Jewish education – in middle or high schools, for youth movements, on campuses, or as part of outreach organisations, synagogues and community centres. It can also be a resource for parents to learn one-on-one with their children if they wish, or even for individuals who just want to think deeper about Judaism. It features both entry and advanced levels, and offers downloadable PDF guides for both the student and educator. The ten subjects covered are:
The Way of Identity: On Being a Jew
The Way of Prayer: Speaking to God
The Way of Study: Listening to God
The Way of Mitzvot: Responding to God
The Way of Tzedakah: Love as Justice
The Way of Chessed: Love as Compassion
The Way of Faith: Love as Loyalty
The Way of Israel: The Jewish Land
The Way of Kiddush Hashem: The Jewish Task
The Way of Responsibility: The Jewish Future
---
One way of exposing a wider audience to Rabbi Sacks' work and ideas has been through an ongoing series of whiteboard animation videos. These videos have been used as teaching material in a range of different settings. To dates, the topics covered are:
The Connection between Judaism and Israel
The Home We Build Together: On how to achieve integrated diversity in society;
The Great Partnership: On the relationship between religion and science;
The Politics of Hope: On finding common ground in times of extremes;
The Mutation of Antisemitism: On understanding the nature and danger of antisemitism;
The Boycott, Divestment and Sanctions campaign: On understanding the danger of the BDS movement;
Why I am a Jew: On Jewish identity.
Further videos are planned on: The Dignity of Difference, Tackling Religious Fundamentalism, The Ethics of Responsibility, and The Relationship Between Judaism and Israel.
Click here to watch the videos
---
Morality in the 21st Century
Over the daily episodes on BBC Radio, Rabbi Sacks and a host of expert contributors explored topics that included ideas around moral responsibility and who still has it; the impact of social media on young people; Artificial Intelligence and the future of humanity; the impact of individualism and multiculturalism on communities and who young people see as their moral role models. In each episode Rabbi Sacks also spoke to groups of young people between 16 and 18 years old, who provided commentary on the discussions and shared their insights into their moral, social and political outlook, and examined with them what the implications of their opinions might be.
Contributors to the series included: American philanthropist Melinda Gates; Jordan Peterson, the Canadian clinical psychologist; Noreena Hertz, English economist and broadcaster; Steven Pinker, cognitive psychologist, linguist and author; Jean Twenge, Professor of Psychology and author; David Brooks, author and political and cultural commentator; Michael Sandel, political philosopher; Mustafa Suleyman, British artificial intelligence entrepreneur; Nick Bostrom, philosopher; Jonathan Haidt, social psychologist; Robert Putnam, American political scientist and Heather Templeton-Dill, president of The John Templeton Foundation.
You can listen to the five main programmes, as well as a series of extended interview, on the BBC Radio 4 website here.
---
Rabbi Sacks' TED Talk
It's a fateful moment in history. We've seen divisive elections, divided societies and the growth of extremism — all fuelled by anxiety and uncertainty. "Is there something we can do, each of us, to be able to face the future without fear?" asked Rabbi Sacks. In this "electrifying" talk, Rabbi Sacks outlined three specific ways we can move from the politics of "me" to the politics of "all of us, together."
You can watch the TED Talk here
---
Rabbi Sacks is the author of over 30 books covering both Jewish and secular subjects. He has written a commentary and translation to the Siddur, as well as commentary to all the machzorim (festival prayer books) and on parshat hashavua through his Covenant & Conversation volumes. Some of the other subjects he has written on are: the relationship between religion and science; how to promote a dignity of difference among peoples; the challenge posed by religious fundamentalism; the ethics of responsibility; creating harmony in societies made up of diverse groups; and how to create a politics of hope for the common good.
You can view all his books here
---
Lots of educators like to quote Rabbi Sacks' work. To help make finding suitable quotes slightly easier, we have begun to develop a database of quotes based on different subjects. This is evolving and we are adding to it as often as possible.
You can take a look at the quotes database here
---
Letters to the Next Generation
To date, Rabbi Sacks has published two booklets called 'Letters to the Next Generation'. These are a collection of short reflection on some of the biggest issues about Judaism and living a Jewish life and addresses questions such as: Does faith make sense? Aren't the new atheists right? Isn't religion based on ideas that have been disproved or at least overtaken by science? Can we really believe in a God who cares for us when He doesn't prevent natural or man-made disasters? Can we believe in the Jewish God after the Holocaust? Do Jews really need to stay different, distinctive, set apart? Isn't Judaism simply irrelevant to the twenty-first century? Why does Judaism need to surround itself with so much protective packaging? Why be Jewish? Why stay Jewish? Why live a Jewish life? How does it help you be the person you want to be?
You can read the first edition of Letters to the Next Generation here and the second edition here.
You can read a special edition of Letters to the Next Generation here that was published for the Prizmah Conference which included a selection of letters from both editions as well as a final letter on Jewish identity.
---
In his final message before stepping down as Chief Rabbi after more than two decades in office, Rabbi Sacks recounts his personal journey of discovery and faith. Through a compelling analysis of recent Jewish history, 'A Judaism Engaged with the World' warns that a Judaism divorced from society will be a Judaism unable to influence society or inspire young Jews. Calling Judaism "the voice of hope in the conversation of humankind", Rabbi Sacks argues that in the twenty-first century, Jews will need the world, and the world will need the Jews. What we need, he argues, is a Judaism unafraid to engage with the intellectual, ethical, political and personal challenges of our time. As one chapter in his own life comes to a close, Rabbi Sacks invites you to join him in his mission to inspire a new generation of Jewish leaders with the confidence to address the challenges that face Jews, Judaism and Israel today.
You can read this booklet here.
---

In this series of ten short videos, Rabbi Sacks talks about what prayer really is and how it can change your life. These videos focus on:
Spiritual Exercise – how prayer is to the human spirit what exercise is to the human body;
Thanking & Thinking – the importance of recognising that despite the difficult moments, it is important to remember daily that life is a gift;
Praise – how the concept of praise is central to Jewish prayer;
The Deepest Call – the meaning of the Shofar and how its sound is a prayer that goes deeper than words;
Family – how we believe that to all humanity, God is a friend, but to us, He's family;
Mistakes – how Judaism doesn't believe that anyone is infallible; we all make mistakes and it is how we learn from them that counts;
Growth – the difference between a fixed and a growth mindset, and why Judaism, especially around the High Holy Days, is a sustained tutorial in a growth mindset;
Holy Words – how listening and the idea of holy words, places, time and people are central to Judaism;
Framing Beliefs – how Jewish faith isn't irrational or naive or pre-scientific, but a framing belief; and
The Soul's Language – Kol Nidre and the power of music to lift the Jewish soul.
You can watch these videos and read the transcripts here
---
In this series of videos, Rabbi Sacks highlights thirteen principles to help us become more inspiring parents. These videos focus on:
How making space for our children to inspire us is one of the greatest gifts we can give them;
How important it is to serve God in joy if you want your children to love Judaism;
The importance of setting an example, living a life of high ethical ideals if you want your children to do the same;
The value in giving children a strong faith in their religion;
The role that music and song have in instilling a love of Judaism in your children;
The importance of giving our children the space to lead if we want them to grow;
The importance of being in the world but not of the world, of living by your standards and not by the standards the world might seek to impose on you;
The importance of teaching your children to delay instant gratification and instead to think long;
The importance of community and relationships in providing your children with keys to stability in a world of change;
Why parents should never seek to make their children their clones;
Always being their for your child, no matter what the situation might be;
The power of simply being thankful for your children and appreciating what a blessing it is to be able to bring new life into this world; and
How one of the ways we can all be inspiring parents is by creating time and space for our children to inspire us.
You can watch these videos here.
---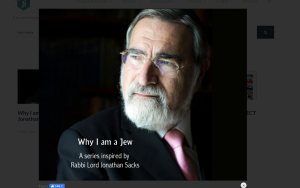 Rabbi Sacks was passionate about Jewish Interactive's mission to universalise access to Jewish Education.
Rabbi Sacks recorded this series on his teachings so young students could learn from anywhere with him. Here you can explore "Why I Am A Jew", serialised into 4 units for younger children to explore and understand.
Click here to visit the Jewish Interactive classes on Rabbi Sacks