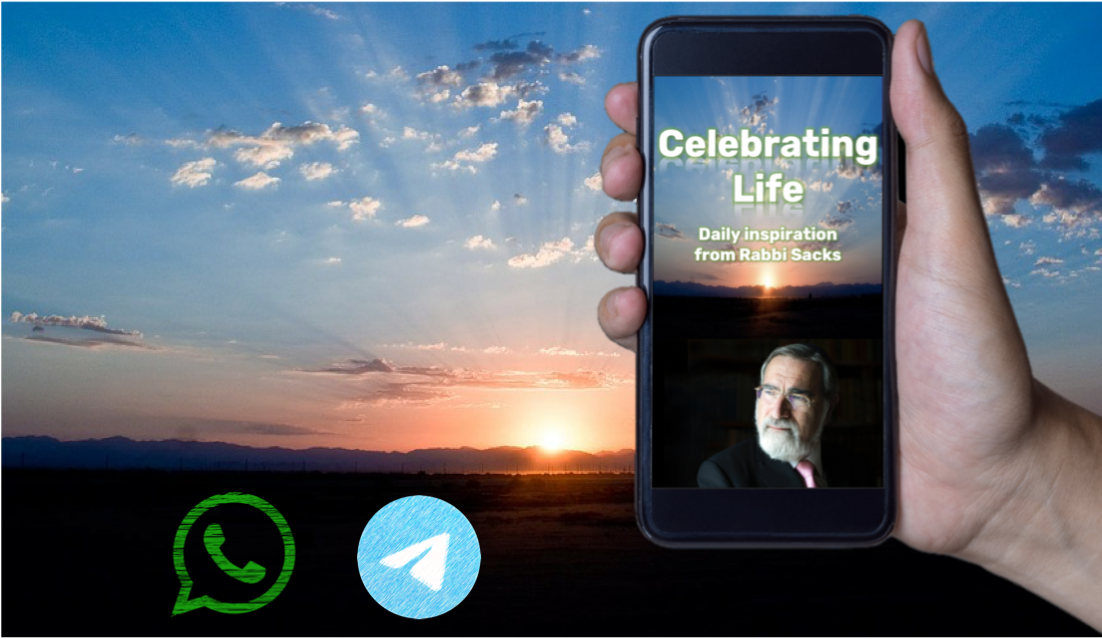 This Elul, join Rabbi Sacks' NEW WhatsApp or Telegram groups entitled "Celebrating Life" for daily inspirational ideas as we approach Rosh Hashanah, Yom Kippur and 5780.
Please note you only need to join ONE group as the content will be the same on all the groups.
We will begin to post content from Rosh Chodesh Elul (1st September) onwards.
Here are the links to the next batch of WhatsApp groups, if you wish to join us.
Remember, you only need to join ONE group.
Thank you!
From the Office of Rabbi Sacks
Group 37: https://chat.whatsapp.com/ExI4vOSFZED1y3c234Yq3G
Group 38: https://chat.whatsapp.com/Im1ozRSxFq93DJqk5ZwcRd
Group 40: https://chat.whatsapp.com/FqUOjmMSdtu9DDmqtbQLax
Group 41: https://chat.whatsapp.com/HVIGOUxJvTF4NAtHjYHu09
These WhatsApp Groups are a way for a group of people to receive messages and voice notes direct to their phone. Please note that each group contains maximum 257 phone numbers, and if you join one of our groups, the other members will be able to see your phone number (and any other personal information that you have set up with your profile, such as a profile picture and a profile name.) The messages are secured with end-to-end encryption, and our groups are set up so that other members cannot send messages, they can only receive them. If you opt to join one of our groups, we are only able to see the information which you share, and the only essential information is a phone number.
TELEGRAM APP:
In addition to WhatsApp, we will also be sharing these same daily messages on the Telegram Messenger App. If you prefer this mode of communication, please click here or search for 'Celebrating Life' in your Telegram app, and join the group.